Ironman
The PMRA Committee is collating members' feedback about Sunsmart Ironman 70.3 and invites you to comment on your experience of the event this year, including your views about the canal and road closures.
We will pass on your feedback to the City of Mandurah and to USM Events for Ironman 2014. Please send your comments to
info@portmandurah.com.au


Dredging Update
We have been informed by the City of Mandurah that they've been
doing their utmost to employ a company to dredge the waterways.
They expect a dredge to become available in March 2014.

Aquatic Biosecurity Alert: Asian Paddle Crab
The Asian paddle crab is an aggressive introduced crab that could spread devastating disease to prawns, crabs and lobsters and
out-compete native crabs like our iconic blue swimmer.
The paddle crab is not native to WA but has potential to establish here and become a pest. It is important to report any which are seen or caught in the wild.
The Cormorant and Seagull Debate
In response to letters from PMRA members about the nuisance caused by cormorants in Port Mandurah, Allan Claydon, City of Mandurah's Director of Works & Services, wrote to us on 17th October. To see his letter in full

please click here.
PMRA members Terry & Megan Rohde replied to Allan Claydon's letter on 23rd October. To read their letter

please click here.



The Rotary Wishing Well




The wishing well will once again be floating at the end of the Starfire/Aztec canal during the 

Christmas season. It will be well lit up and ready to collect money from the many passing boats. There will be a new large and bright WISHING WELL sign which can be seen from the road to encourage coins from the people watching the boats and lights from the shore.




This will be the 6th year for the Wishing Well. Since its inception it has raised over $40,000 for local charities. PMRA committee member René Jorgensen who started and has been running this project for the Rotary Club of Mandurah, hopes to beat last year's record of $12,530, and is grateful for everyone's continued support.





Santa on the Canals




A reminder to all residents of Port Mandurah that Santa will once again be floating by some time between 5.30pm and 7.00pm on Christmas Eve.




Listen out for Santa's bell or loud Christmas carols coming from the water.




Santa will have a small gift for the children on the jetties.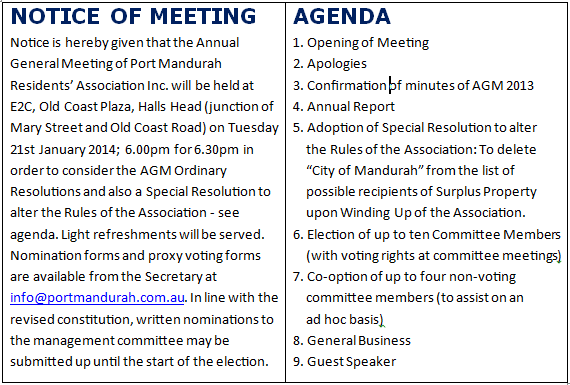 CHRISTMAS PARTY REPLY FORM
    I / we will be attending the Christmas Party at MOFSC on Sunday 8th December from 6.30pm
    Payee's name:
    Address:

    Email address:

    Total number attending: 
    Name(s) of partner / guests: 
    Cheque or EFT: Total $
    Comments / special requests:

Please make cheques payable to Port Mandurah Residents Association and mail to:
P.M.R.A. 27 Starfire Close, Halls Head, WA 6210.
Or electronically transfer funds to our account: Bendigo Bank BSB: 633000 Account No: 136986080 quoting your name as reference. Please include a copy of the electronic receipt with your application. Your tickets will be emailed to you prior to the function.